One Lombard | Trailblazer: Best Hikes for Dogs and Dog Owners
Not since Grandma insisted to my parents that a boy of 10 must have a dog, have I had the pleasure of hiking with my own four-legged best friend. Now I incessantly ask my dog-owner friends if they need me to dog sit, or take the little rascals out on walks, so I can indulge in what is arguably the best part of having a dog. But instead of opting for a crowded park, I seek out dog-friendly beaches, hills, lakes, and open spaces—all plentiful in the Bay Area. Dogs can romp and play and chase to their heart's content. And I earn my friends' undying gratitude for bringing a tuckered-out pup home; not to mention the promise of a future outing in the wilderness with my best buddy for a day. So whether you want to let your dog loose, or take in a scenic trek where leashes are required, here are three Bay Area hikes and outdoor areas that should be on every dog owner's (and dog lover's) must-do list.
Muir Beach
Marin | Rodeo Beach and Muir Beach
Lagoons, marsh lands, large beaches, streams, and very hike-able overlooks are what make Rodeo Beach and Muir Beach such spectacular places for dogs and their nature-loving owners. Plus you can run the pups and let them dig to their way to China, as leashes are not required. Make sure to hike up into the headlands on the Coastal Trail at either location. The very ambitious can hike the trail from one beach to the other and enjoy some incredible vistas of San Francisco and the Pacific en route. Make sure to look for leash restrictions while on the Coastal Trail.
Rodeo is much closer to San Francisco. You can take Conzelman Road on the north side of the Golden Gate to McCullough Road to Bunker Road. Due to a section of road that washed out during this year's "Stormpocalypse," Highway 1 will be closed for repairs for at least a few months between the Panoramic Highway cutoff and Muir Beach. To get to Muir Beach, take Highway 1 from Mill Valley to Panoramic Highway. Then take a left on Muir Woods Road, which will bring you through Muir Woods and drop you back on Highway 1. Take a right on Pacific Way to reach Big Lagoon and the Muir Beach parking lot.
San Francisco | Fort Funston
Located just west of Highway 35 near the Olympic Club, Fort Funston consists of trails that maze through undulating cliff faces looking out over miles upon miles of breakers. Wind through Cyprus trees and ice plant down to beautiful and expansive Ocean Beach. With its gradual descent to the water, this iconic beach is perfect for letting your dog test the chilly Pacific, or bound into a foot or two of water after a stick or ball. Hike the Sunset Trail for the best views. And on certain days, you'll see hang gliders launching off the steep cliff face just north of the parking lot. Plus, no leashes are required here, so the pups can run wild and free until they're all tuckered out.
Los Gatos | Sierra Azul Open Space
Lush and green in the winter and spring, tinted rich golden brown in the summer and fall, the Sierra Azul Open Space is a vast network of trails winding through streams, hills, meadows, and other West Coast natural wonders. Head west on Highway 17 and take the Bear Creek Road exit. Cross the highway and head north to Alma Bridge Road and on to the Lexington Reservoir County Park. You can park here and walk across the Alma Bridge Road to the Limekiln Trail trailhead. Try the Priest Rock Trail with its 800-foot elevation gain, or just saunter along with your little buddy through the oak trees, tall grass, and beautiful landscapes. Leashes are required here unless the trail sign detonates otherwise.
Don't forget your sunscreen, hat, and another layer—plus plenty of water for you and the pups. And as always, be sure to let someone know where you are headed and when you expect to return.
Happy hiking!
By Rich Wright, Bay Club copywriter
LINK: https://onelombard.com/fitness/201518trailblazer-best-hikes-for-dogs-and-dog-owners/
One Lombard | Trailblazer: Hiking Sausalito and the West Point Inn
With the bombardment of online pictures from everyone's summer adventures, it can seem as if June, July, and August are the only times in California for outdoor fun in the sun. But with warmer temperatures and less fog on the coast, late summer/early fall is one of the most spectacular times to get out and enjoy nature. Here are two easily accessible outdoor escapes, which are especially fabulous in fall.
View from the SCA Trail
SCA/Coastal Trail in Sausalito
Just north of the Golden Gate, this trail runs along Wolf Back Ridge atop Sausalito and offers up vistas that will reinvigorate your reason for living in the Bay Area. This outing starts on the Morning Sun trail, next to the parking lot just off the Spencer Avenue exit on the south bound side of Highway 101. After hiking up a few switch backs, you'll reach Alta Trail and head left through a green tunnel of tall eucalyptus until you run into the SCA or Coastal Trail. This single-track trail traverses along the ridgeline and looks down upon a lagoon-spotted valley to Rodeo Beach and Fort Cronkhite and out to the Pacific. But don't forget to look up; this area is a hawk habitat and you can see the soaring birds riding the wind coming off the Pacific. Keeping to the SCA Trail (a.k.a. Coastal Trail), soon you'll be looking down at the Golden Gate Bridge with Sutro Tower, Ocean Beach, the Sunset District, and even Pacifica looming in the distance. Expansive 360 degree views with magnificence in every direction will put your iPhone pano setting to the test.
After a few footbridges and switchbacks—dotted with ever-changing lookouts onto Angel Island and the Bay—the SCA/Coastal Trail will bisect Conzelman Road. Cross the road and continue on the trail underneath the bridge and down to Fort Baker. Then it's just a short jaunt to Cavallo Point's renowned Murray Circle, where you can treat yourself to a well-deserved lunch on the deck. You've earned it! For the tenacious—and those who opted for water instead of wine at lunch—the walk into Sausalito is always beautiful. Otherwise it's time to hail an Uber and head back to the car!
 
Hike to the West Point Inn
Starting at the Mountain Home Inn on Shoreline Highway in Mill Valley, walk up the paved road and past the Throckmorton Ridge Fire Station. You'll be tempted to proceed up Hog Back Road, but hidden to your left just past the water tower is the Matt Davis Trail. A gradual incline with sudden and spectacular views, this trail is lined by evergreens, interspersed with shrubs and trees that release brilliant and fluttering foliage with each season. Hang a right when you reach the Nora Trail and head up some switch backs to the historic West Point Inn.
Built in 1905 and accessible only by foot, this sprawling inn, with its wrap-around covered porch, is the perfect place to spread out a picnic lunch and enjoy views that stretch from Richmond and sweep all the way to the Pacific. Make sure to check out all the historic photos and memorabilia inside the Inn and make a donation to help preserve this iconic landmark.
By Rich Wright, Bay Club copywriter
LINK: https://onelombard.com/happy-pursuits/20149187mqvzkzlg1feeu58oflypwkyhslo01/
One Lombard | Trailblazer: Winter Waterfalls
Gorgeous waterfalls just a stone's throw away!
Don't put away those hiking boots just yet. Bundle up and head out to the Bay Area's parks and open spaces this fall, either after a storm or even while it's raining, and you'll discover a lush world of green grass, towering trees, and fascinating critters—big and small—who only venture out in wetter weather. And if you follow the right path, you can even find some spectacular waterfalls! Here are three hikes perfect for enjoying nature after, or during, a downpour.
Cataract Trail on Mount Tamalpias
Starting in Mill Valley, take Highway 1 to Panoramic Highway. You'll head up Mount Tam until you reach the Pan Toll Station, where you'll turn right onto Pan Toll Road. Drive for about 10 minutes and you'll reach the Rock Springs parking lot.
Start hiking on Cataract trail following a small creek through a stunning meadow (look for wild turkeys!), to be engulfed by a canopy of oak trees, Douglas Fir, ferns, and other shrubbery that love a good drenching. The creek grows larger as you descend steep stone stairs and more challenging terrain into a small gorge, adorned with moss-covered boulders. After about 1.7 miles, you'll hear the first of many waterfalls, but don't stop there. If you can make it to the third mile, or to the High Marsh Trail cut off, a series of cascades awaits you below!
If you have two cars, leave one at Kent Lake on Kent Pump Road. Then when you reach the end of the Cataract Trail, you can dry off and warm up before driving the beautiful West Ridgecrest Boulevard back to Rock Springs parking lot. Click here for a Google map.
Maple Falls in the Santa Cruz Mountains
As you head south on Highway 1 just past Capitola, take Exit 435 for State Park Drive and head east towards Aptos. Then turn left onto State Park Drive to Soquel Drive. Turn onto Aptos Creek Road and drive about a mile to reach the Forest of Nisene Marks State Park entrance.
Support our state parks with an entrance fee and then drive another mile to reach George's Picnic Area, which is near Steel Bridge on the map. As you walk on Aptos Fire Road, you'll notice a symphony of raindrops falling from the branches of the majestic redwoods resounding throughout the forest. From the fire road, you'll continue on Loma Prieta Grade until you reach the Bridge Creek Trail. From there, it's about two miles or less through increasingly bountiful green trees, some adventurous creek crossings, and finally, Maple Falls! Click here for a Google map.
Alamere Falls in Point Reyes
Take (you guessed it) Highway 1 out past Stinson Beach towards Bolinas. Take a left on the Olema Bolinas Road (look carefully; Bolinas locals are famous for doing away with all signage directing traffic to the little beach town). Hang a right on Mesa Road, which will take you all the way to the Palomarin Trail Head (in winter, an SUV is advised as about a quarter of this road is unpaved). From there the directions are easy, but the nearly eight-mile trek is not for the timid.
Start walking along the Coast Trail, and watch the trail closely. You're sure to see some beautiful pink and red salamanders moving in slow motion. At times, there can be so many of them, you have to watch your step so as not to hurt the little guys. From here, the trail cuts inland. leading you by a series of lakes, culminating with Bass Lake (fantastic for a swim in the summer time). You'll then descend back toward the ocean, passing Pelican Lake before the Alamere Falls Trail appears on your left. This will lead you to the top of the falls. Getting down to the beach to look back up at the waterfall cascading down the coastal cliff can take some climbing skills. But with some friends and confidence in your foot and handholds, getting down to the beach is well worth it. Click here for a Google map.
So Scotchgard those hiking boots, dust off the rain jacket, and explore our soon-to-be wet and wondrous Bay Area wilderness. Anddon't forget to pick up a waterproof map at a local outdoors store before you head out!
—Rich Wright, Bay Club copywriter
LINK: https://onelombard.com/fitness/2014115trailblazer-winter-waterfalls/
One Lombard | A Guy's Guide for the Ladies: What to Get Your Guy for Valentine's Day
One of the most valuable pieces of knowledge I've learned from rom-coms, ex-girlfriends, and my father, is that if you have a significant other, you better have a Valentine's Day present come February 14th. And even if you've both solemnly sworn to forego picking out presents for each other, well then you sure better have a special evening planned!
As the hallmark of all Hallmark Holidays approaches, my female friends are asking me what I'm going to get my girlfriend. After I answer, the conversation inevitably segues into what they should get their boyfriend or husband. "Well," I ask. "What kind of guy is he?" Does he like to watch sports, play sports, both, or none of the above? Is he getting creative in the kitchen, or praising your culinary skills from the sofa? Does a DIY day make him drool or want to hit the speed dial for TaskRabbit?
No matter what your man does for fun, here are three ideas that should help solve your gift-giving dilemmas.
For the Adventuring Sportsman: Sailing Lessons
Living in the Bay Area, many of us reside within site of the ocean or the Bay. Yet sailing remains one of those sports you get invited to do once by a friend who just sold their startup. Well not anymore: Visit the San Francisco Sailing School website and secure a set of lessons that will have him tacking, cruising, and berthing all over the Bay. Then charter a schooner and sail off into the sunset.
For the Gourmand Who's Ready to Be a Gourmet: Cooking Classes
You worked hard picking out a Valentine's Day gift for him. Why not reap the benefits? The Bay Area is known, of course, for its vast culinary landscape. So picking a cooking school can be a bit daunting. I suggest setting up a night of educational fun at The City Kitchen. Located in the heart of North Beach (on the corner of Jack Kerouac Alley and Columbus Avenue), this gastronomic academy will host an evening of fun for you and your man while together you learn the intricacies of such specialties as butchering, sausage making, and cake design.
The Drinking Man: A Different Kind of Jelly of the Month Club
Caskers is an online community for lovers of drink who wish to receive three bottles of personally selected spirits every three months. Sign him up for whiskey or vodka, or let him choose what kind of adult beverage he'll be receiving. Caskers also offers The Office Club option, where he can get as many bottles as he'd like delivered straight to the office.
So whether you're newly married, recently smitten, aiming to impress, or off to an anti-Valentine's Day Party, we hope you have a fun and love-filled February 14th!
—Rich Wright, Bay Club Copywriter
LINK: https://onelombard.com/community-events/201524a-guys-guide-for-ladies-what-to-get-your-guy-for-valentines-day/
CMKY | Inked Up: Bay Area Tattoo Shop Revue
Pinchit | Inked Up: Bay Area Tattoo Review
A clean, well-lighted place for tattoos, Seventh Son Tattoo inhabits an expansive space tucked away on Langton Alley in SoMA. Take a quick glance at the extremely thorough online gallery of past works and you'll appreciate the accomplishments these champions of the San Francisco tattoo scene have earned. Specializing in large pieces such as sleeves, the ornamental decorations past clients have chosen are murals surpassing anything you'll find in the Mission. The man-hours that go into such a commitment are immense and the final product explains the story of what strong perseverance and dedication both recipient and artist possess. Even if you're not certain your ready to receive these fellows greatness, just a pop into the shop is experience enough.

No Itsy-Bitsy Spider
Hot and busy for sometimes-sleepy Marin, downtown San Rafael, home to Spiders Murphy's tattoo parlor and some of the most renowned artists in California. Usually graced by the presence of the owner's incredibly badass and beautiful orange Dodge Super Bee, look for the stripped awning and the iconic neon "Tattoo" sign in the window. A welcoming and friendly atmosphere is important for a tattoo shop to maintain, especially if they want to entice the un-inked into their first branding experience. The staff here is always around to give advice on designs and walk every client through their trip to the chair. Exceptionally talented artist Paul Anthony has developed a signature style all his own and is happy to consult and work on designs with his clients. This is the shop in Marin.
For Eva Eva? Everlasting Tattoo
No pomp and circumstance at this down-to-business parlor. But don't let the shaded windows and beyond-dark interior turn you away, owner Mike Davis, rounds up a selection of extremely talented and creative artisans to assist in all emblems that may forever decorate your visage. Photos adorn the walls paying tribute to the past feats of fine and creative craftsmanship — a reminder that you are going to be getting exactly what you want and more: an 'Everlasting' fond memory of your experience and the token to prove it.
Tattoo You Black and Blue
With a plethora of permanent sleeves, forearm floras and an evident encyclopedia of tattoos, a jaunt to The Mission will make anyone sans ink think seriously about going under the needle. Winner of the San Francisco Bay Guardian's 2011 Best of the Bay award for Best Place to Get a Tattoo, Black and Blue Tattoo on Guerrero St. can fulfill any imprint ideas imaginable. Black and Blue has up to ten artists on staff, whose highly praised work in a multitude of mediums is displayed in the foyer with prominence.
The skilled aesthetics at this parlor lead each client through a painstaking process of deciding on a tattoo, adhering to the exact design or concocting something straight from their creativity, professionally administering the ink and advising on intricate aftercare. Each job at Black and Blue is an ongoing relationship, ensuring every experience is cherished and the shop is highly recommended throughout the community.
Daily Candy | Road Trip RN74 Opens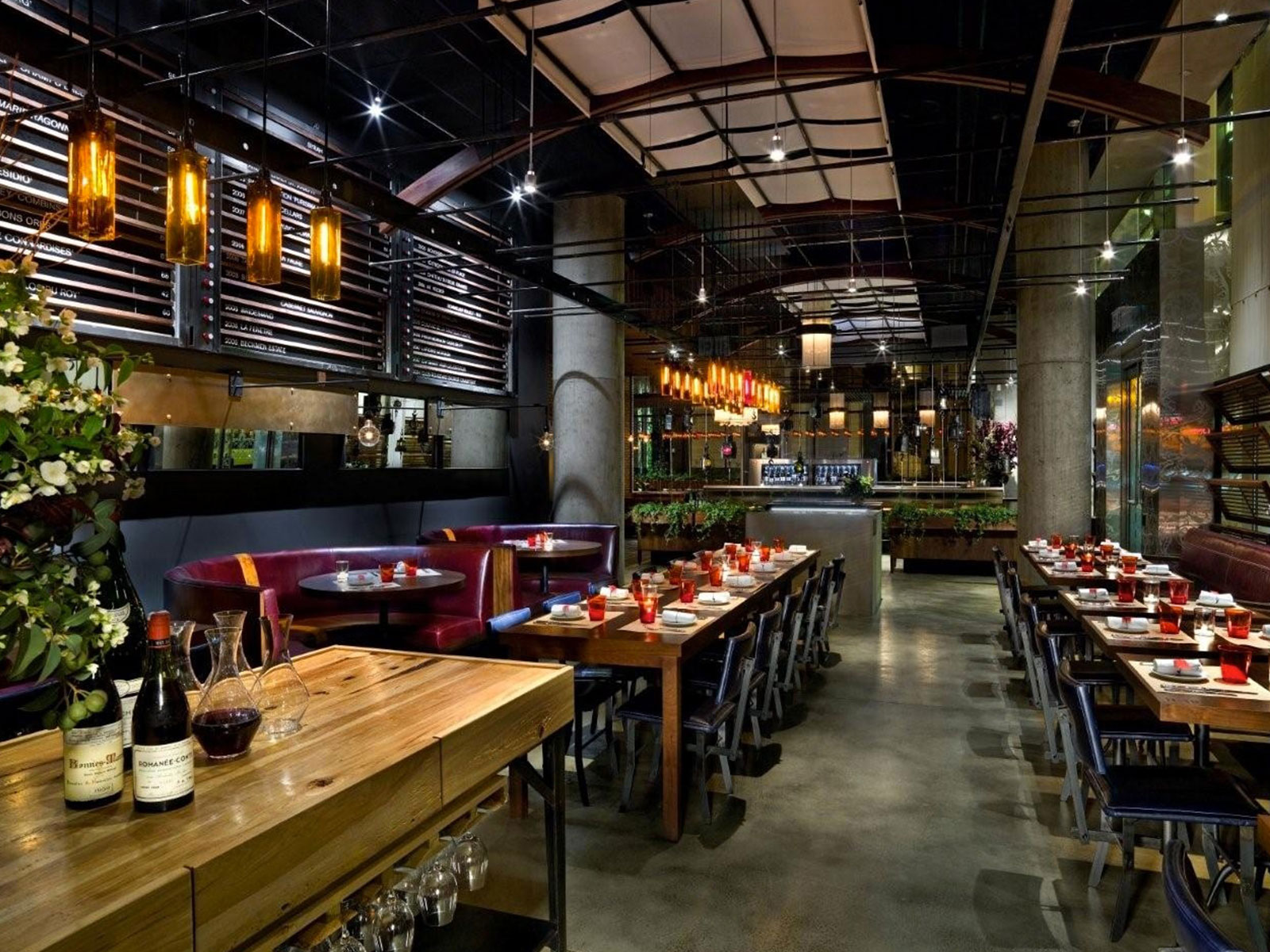 Road Trip | RN74
Some get their kicks on Route 66.
But we bet you'll be getting yours at RN74.
Without further ado, Michael Mina delivers his new SOMA wine bar today on a silver platter. Tricked out with train depot accents, the spot is named for the road that runs through Burgundy.
Though you can expect perfect sturgeon rillettes, hamachi sashimi, and duck confit (no plate exceeds $19), a purported list of about 3,000 wines steals the show. Fifty by the glass sit beside impossible-to-find bottles like an 1870 Lafite Rothschild (a mere $12,500).
In Mina fashion, decor is sleek with rustic touches, but the pièce de resistance is the vintage train board that displays revolving wines based on availability (when one sells out, a new selection moves up in its place).
All reason enough to move your caboose.

RN74, 301 Mission Street, at Beale Street, Millenium Tower (415-543-7474 or michaelmina.net).
CMKY | Sausalito Insider's Guide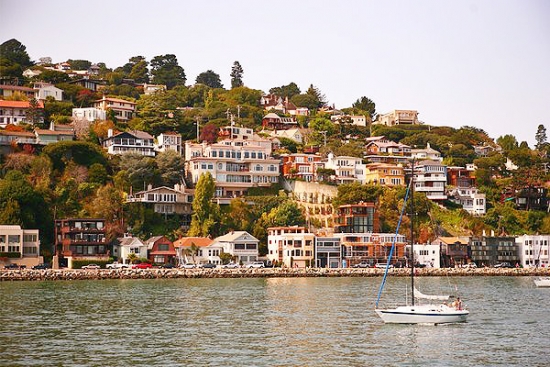 Sausalito Insider's Guide
The fleet of ferries that storm the shores of the Embarcadero are, for the most part, catamaran cargo ships carrying suited armies of varied professionals. Aboard, people nap, read, and rarely converse or make acquaintances…unless, of course, you're on the Sausalito ferry. A Carnival Cruise for commuters, the eclectic vibe of Sausalito follows the passengers aboard. Just beyond the Bay, Sausalito is a vibrant, unique community with lots to offer beyond the tourist attractions. This waterfront town is chock-full of locally owned businesses, a thriving artistic scene, and a wide selection of places to indulge your pleasure-seeking inclinations. So hop a ferry, get off on Bridgeway Street, and explore the real Saus-Town!
Sushi Ran
A staple since the start of the 80's sushi obsession, Sushi Ran is the epitome of quality Japanese cuisine in Marin - or Northern California for that matter. Sushi Ran is tucked away on Caledonia Street next to the theatre, and more importantly, away from the tourist traps on Bridgeway Street. Renovations in the last 10 years added on a more casual wine bar, but the menu is just as delectable as the main restaurant. Introducing inventive rolls and plates while perfecting classic standbys, "The Ran" is by far the most enjoyable sushi experience available in the Bay. If you're lucky, the owner Yoshi will be in attendance and working the room with a smile, making certain every patron procures their own personally perfect gastronomical adventure.
Smitty's
Home of the Schooner - a gigantic jug-o-beer - one of Marin's finest shuffleboard tables, and the classiest clientele this side of the Golden Gate, Smitty's is a sailor's bar of the highest caliber. This long-standing drinking institution is painted bright white on its exterior, but rest easy, the expansive bar is the perfect place to hunker down in the dark and weather out a storm of sunlight outside – true light comes from a belly full of beer.
Sausalito Gourmet Delicatessen
Everybody's seen the classic poster of a Gyro in the windows of many a deli. Looking almost too good to be true - red-ripe tomatoes, fluffy pita pocket, finely roasted lamb, a perfect plop of tzatziki sauce – this wrapped goodness usually comes delivered looking much different than it's formal poster presentation; unless of course you order one from Sausalito Gourmet Delicatessen. In addition to beautifully-built, delectable Gyros, a paradisiacal back patio, and and an excellent wine, beer, and food selection, the family running the show is more than friendly and always greets customers with glowing hospitality.
Venice Gourmet Delicatessen
Crowd control is always an issue on summer days at Venice Gourmet Pizzeria deli on Bridgeway. The owner, George, is a true Sausalito local, having run the shop with his father for many years. Even though this gourmand's Xanadu is situated amidst a mad tourist traverse along the Bay, Sausalito residents will fight the chaos of the crowds to feast on one of George's specialty sandwiches, procure rare wine and spirits, sample fine chocolates, and browse all the culinary curiosities. Having worked at Angelino's next door, I can vouch for Venice's use of the freshest ingredients to create the highest caliber cuisine this side of the Mediterranean.
CMKY | Date Night in Chinatown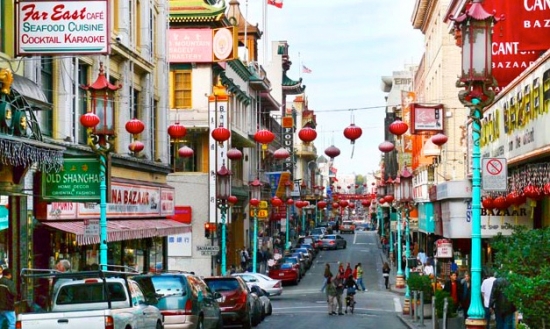 Sifting through the characteristic first date chit-chat to learn more about your possible partner can be tedious and time consuming. Find out what your new friend is really made of and see if they are man (or woman) enough to appreciate these Chinatown gems. The sights and smells of San Francisco's Chinatown delight the adventurous and dare stomachs of steel. Roasted whole ducks dangling in windows, dimly lit bars and sour bartenders serving sweet drinks, will certainly separate the dull from the daring.
Li Po Lounge
Look for the blue neon sign, duck into Li Po Lounge, and start off the night with a Chinese Mai-Tai - a concoction known to make patrons stumble rather than stroll from the premises.
This long-standing drinkery was recently made famous via a visit from Travel Channel's Anthony Bourdain. Don't let the minor celebrity status discourage a visit, there is as much character and history in the walls as in the faces of the patrons bellied-up to the bar.
R & G Lounge
A classic for locals and a treat for tourists, R & G Lounge is intimate and boisterous all at once cultivating good time atmosphere where you can still hear yourself think, or your date talk - if the conversation is worth listening to.
A house specialty, the Salt and Pepper Full-Crab might freak you both out a bit, but break that critter up and the delectable and sweet flavors of the sea will delight even the most squeamish
Chuck You - Delightful After Dinner Drinks
Come to Cathay for one thing only, well two things – Chuck the Bartender and his drinks! A circular bar enclosed by a thin partition spares diners from Chuck's antics that include matching every patron shot-for-shot, sharing his perfected 'stink-eye' glare with everyone who orders a drink and creating some uproarious good time laughs with his screw-you shenanigans.
If you and your date can laugh as Chuck throws Singapore Slings and insults your way, you may have a keeper on your
L'Amore is for Lovers or Karaoke
So the dates going swell, crab juice slathered on your hands and face and hilariously rude bartenders have only added to your mutual fondness. Time for the Piece de Resistance: Karaoke.
Luckily, one Chinatown enclave is reserved for just this kind of ridiculousness – L'Amore Nightclub. With glow-in-the-dark star stickers smattered on hastily painted walls and the requisite awkward-karaoke-video that accompanies each song, the title of "nightclub" might be a stretch, but its all fun nonetheless.
Serenade your sweetie with a rendition of Lionel Richie's "Hello" or bust out the Running Man to a Milli Vanilli duet. Say so long to your inhibitions and future faux pas, after this date your guard will be down and your comfort level up with only one thing left to do – decide what to do on your next date.
http://www.cmykcity.com/articles/126/date-night-in-chinatown?page=5
CMKY | SF Men's Ware for a Modern Life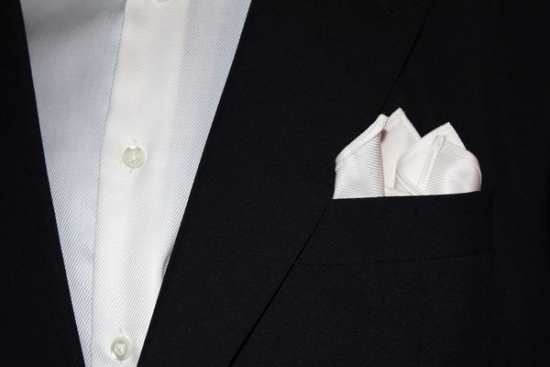 Climates that change by zip code and an abundance of must-attend seasonal events require a ready-to-wear wardrobe for every San Francisco male. Asking your date through chattering teeth to borrow her scarf and hat at a Giant's game does not a masculine companion make. On the other hand, acquiring a set of rich brown Ferragamo lace-ups to go with your new navy Paul Smith suit will win admiring stares from those dating the dolts who still believe black loafers go with everything. Be it surfing the snow or the couch, riding in limos or on horseback, the following establishments offer outfits for any occasion.
Black Fleece offers an edgy take on the long-standing traditional look of the Brooks Brothers brand. This BB offshoot keeps us looking snappy on the croquet court or at the courthouse (for attorneys of course – orange jumpsuits are a bit less flattering). Seersuckers abound, tailored shorts and an ascot or ten are easily discovered via an incredibly knowledgeable staff who know how to match and layer - a San Francisco necessity. Tasteful plaid patterns are available, along with a rainbow of colors not normally utilized in formal menswear.
Goodbyes? More like Hellos
Full price retail is for suckers, the perpetually lazy, or those with trust funds. With a little effort, you can venture through the racks of selected suits, dress shirts, unworn shoes, jeans, and jackets - the majority of which are designer and selected for re-sale by a fashion-conscious staff. Example: I recently landed an un-lived in pair of brown Patrick James Oxfords. Retail: approximately $400 retail. Goodbyes? $50. Seriously. Don't miss out on this amazing Laurel Heights consignment shop.
For the Dapper Gent: Wilkes Bashford
Wilkes Bashford has been dishing out style to San Franciscans since 1966. Found in the molten core of SF's fashion center Union Square, Wilkes began importing Brioni goods and was one of the first stores to feature items from then unknown American designer Ralph Lauren. The Wilkes Bashford man is exceedingly dapper - forever to be found in French cuffs, suits specified to his measurements, and, more often than not, with a dab of color in the form of a pocket square or socks peeking from behind perfectly tailored slacks. A spending spree at Wilkes may ensure you'll be riding Muni home with your garment bag, but an outfit from this San Francisco institution will ensure you're not faking it - you're making it.
Gearing Up for the Apocalypse or Mt. Tam: Triple Aught Design
A fluctuating terrain and micro-climates are some of the glorious attributes of Northern California. Swimming in Bass Lake and tanning on Bolinas Beach can turn into cuddling to shelter from the stinging cold in just a few Dogtown Ale's time. The same thing can happen at AT&T park - con cuddling, sans fire of course. Triple Aught Design or TAD creates an assortment of apparel, packs, tools, and gear that can keep your new suit dry on a rainy February day as well as save your life during a late October Tuolomne high country trek. The founder's ex-army training and love of unexplored regions of California inspired this hardcore, practically bulletproof, far-outlive-you collection of packs, clothing, knives, flashlights, and other items necessary for the apocalypse.
Snuggle City: James Perse
After long city nights and adventurous Sierra Nevada excursions, dinner and movie time with sweetie (or solo, just as nice) snuggled up at home is better than any whiskey bar or a 13,000 foot view of Mono Lake. Making sure you're cozy, and of course overly touchable for sweetie, is as vital as your minus 30-degree sleeping bag. James Perse, out of Los Angeles, churns out the comfiest sweats, t-shirts, and other delightfully luxurious loungewear this side of dreamland. Puppies on clouds bouncing on marshmallows could not be more embraceable, which is everyone's goal after braving the perils of our modern existence.

http://www.cmykcity.com/articles/397/sf-menswear-for-a-modern-life?page=1
CMKY | SF Rites of Passage
As a rule, every city, town, burg, and 'hood, no matter how mammoth or miniscule, will avidly boast the superiority of its brood, and San Francisco is no exception. Whether born-and-raised or aptly assimilated, we San Franciscans prize our peninsula above all else. And, if you want to hold your own in our beloved city by the Bay, there are numerous activities in which one is obliged to partake to ensure local caliber. Here's a short list of a few do's and don'ts and a longer list of prerequisites needed to label yourself a local.
• Enjoy Golden Gate Park as much as possible (After all, it's got some of the best grass in the world)
• Do not ride double-decker tour buses, segways, or GoCars (In fact, scoff at them whenever possible)
• Running or cycling the Golden Gate Bridge is permissible (Walking is for tourists)
• Never say you live in "NorCal," "Frisco," or "San Fran"
• Avoid Pier 39 at all costs; I don't care if both your grandmas are in town
• Take advantage of intimate neighborhood pub crawls and small local venues
• Embrace and hate the fog at the same time
• Relax and have a cocktail!
Bay to Breakers
Having survived attempted police shut downs, public pee fiascos, rain storms, and heat waves, employing the largest clean up crew since the 1989 'quake, and turning 101 yeas old this year, San Francisco's Bay To Breakers is a positive prerequisite for local status in the City by the Bay. While still a legitimate foot race ranging from the Embarcadero (The Bay) to the Great Highway at Ocean Beach (The Breakers), the race is already won while the majority of us continue to consume kegs, prepare costumes, or rid our bodies of bothersome clothing before blasting forth into the throngs of fellow revelers. Backpacks packed with Buds (both kinds) are still tolerated by a largely lax police force, but floats with flowing suds were banned in recent year. But darlin,' do not fear, it's still the party of the year for Frisco freaks and normals alike.
Show at the Fillmore
You may have been nothing more than a White Rabbit to your mother's Jefferson and your dad's Airplane when the Summer of Love went down in '69, but the memories your parents made, whether in San Francisco or beyond, can be realized by experiencing a show at the iconic Fillmore Auditorium. The legendary promoter Bill Graham designated the Fillmore West the incubator of flower power bands like The Jefferson Airplane, The Doors, The Who, Hendrix, Quicksilver Messenger Service, Cream, and, of course, The Grateful Dead. But that list is just the beginning of the trip, man. Intimate yet large enough to attract big-name groups, The Fillmore still draws in the highest quality acts, old and new. Keep in synch with their calendar or risk having to explain why you've never seen the incredible concert art covering the walls upstairs.

Bleacher Seats at AT&T Park
Our ballpark is, according to locals, the best place in the country to catch a ball game. Situated perfectly in the ever-evolving South Beach neighborhood, boasting breathtaking views of the Bay Bridge, AT&T Park is usually sheltered from summertime fog flurries, and, on a warm day, is heaven with a side of pickle relish. Hunkering down with Giants fanatics in the bleacher seats is required whether you were born at CPMC or are a trans-American transplant. Being the least expensive seats in the stadium, the raucous revelers in the bleacher seats hurl insults at the opposing team's outfielders and the occasional lemon wedge or garlic fry at over-zealous Dodgers fans who forget their place. Spilt beer may cover your feet and sunflower seed shells might cling to your pants, but friendly flasks are passed on chilly nights and comradery found in only the cheapest of seats keeps us coming back for more.
Hot Day and a Swim at Baker Beach
Due, in part, to the pesky East Bay on the far side of the Caldecott Tunnel, fog is beckoned into our city by the high heat of summer days roasting the inland cities surrounding Walnut Creek. While authentic San Franciscans behold the fog as both a blessing and a curse, true blue beach days are a rare pleasure and are both cherished gems and freak anomalies. The best sandy real estate on one of our 10 or so hot days a year is Baker Beach. Approximately a mile or so long, Baker nestles in below the mansions of Sea Cliff (wave to Sharon Stone and Robin Williams) and spans all the way to the cliffs just under Land's End. The sand is not too fine as to end up in your beer, and not so rough as to exfoliate your feet to the point of drawing blood – it's Goldilocks perfection. For those brave enough to bare all, both ends of Baker Beach are populated by folks in their birthday suits, some bronzed and bountiful and some seemingly unleashed to the sunbathers simply for hilarity's sake. And, there you have it: a simple checklist that'll make sure you're worth your salt before you call yourself a San Franciscan.
Daily Candy | In a Pickle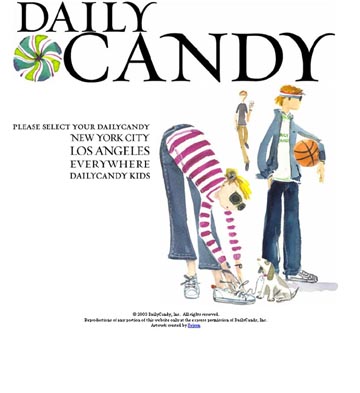 In a Pickle
Thanks to swine flu, the only culture you'll be getting involves a swab and (fingers crossed) a negative test result.
Tickle your throat with some pickled goodness at Cultured organic pickle shop.
Owner Alex Hozven's artisanal family biz has been quietly culturing and fermenting veggies for years, but blink and you'll miss her tiny storefront tucked under a freeway in Berkeley.
Hozven and her team embrace various pickling processes to deliver an impressive array of house-made delicacies — ten kinds of sauerkraut (original cabbage, lemon dill), rutabagas, Brussels sprouts, and tsukemono (a Japanese dish of pickled daikon and turnips), among other seasonal specialties from local farms.
You'll also find a proprietary kombucha — the fermented tea with a cult following — bottled on-site.
It's positively delicious.
Cultured, 800 Bancroft Way, at 5th Street, suite 105, Berkeley (510-540-5185 orculturedpickleshop.com).
CMKY | Must See Museums this Spring
Must See Museums this Spring
Floating on a cloud of creativity, our artistic little burg is home to a multitude of muse-worthy museums. If one were so inclined, visits to several of San Francisco's relic repositories, housing art spanning from the ancient to the modern, can be achieved easily in one day. Though, to receive the recommended dose of culture, I recommend you choose one museum with a temporary exhibit to your liking, saving for later the permanent fixtures that make San Francisco's museum circuit a phenomenon lauded the world over. Read on to get the specifics on some upcoming shows arriving in SF this spring and summer.
Asian Art Museum
Disguised among the hulking government buildings of San Francisco's Civic Center, across the square from City Hall, the Asian Art Museum may not be as architecturally bold as some of San Francisco's more design-deliberate grand galleries. Nonetheless, the treasures of the East abound in this tribute to the aesthetics of Asian culture. Make the trip before April 8th to see "Maharaja – The Splendor of India's Royal Courts," or explore "Deiteies, Demons and Dudes with 'Staches – Indian Avatars" by Sanjay Patel. Also, beginning on May 18th, you'll find the "Phantoms of Asia – Contemporary Awakens the Past" exhibit. This blend of both ancient and contemporary works from multiple cultures is sure to educate as well as inspire.
SFMOMA
The San Francisco Museum of Modern Art, better known as the SFMOMA, is an ever-changing design boutique with a singular mission – to captivate and question every spatial law holding this planet together. Creating culture everyday through ingenious design, garnering the attention of the art world with roundly renowned artists, SFMOMA has recently welcomed an exhibit by abstract painter Mark Bradford, who utilizes urban objects to create strikingly bold works. Starting in March the museum will feature "Photography in Mexico: Selected Works from the Collections of SFMOMA and Daniel Greenberg and Susan Steinhauser," "The Utopian Impulse: Buckminster Fuller and the Bay Area," and an exhibit from Dutch graphic artist Parra titled, "Parra: Weirded Out".
De Young Museum
Monolithic, rising out of the eucalyptus forests of Golden Gate Park, imposing and inviting all at once, the De Young Museum is San Francisco's finest example of harmonization between new and old, man and nature. The structure peaks amongst the trees, leaving its gargantuan size cleverly disguised from a distance. Playing host to past exhibits featuring noteworthy names like Van Gogh, Gauguin, and Cézanne, the De Young has also featured luxury related showcases from Cartier, Balenciaga, and Yves Saint Laurent. Next in the line-up of clothiers-as-artist exhibitions is "The Fashion World of Jean Paul Gaultier – From the Sidewalk to Catwalk," starting March 24th. Come for the fashion and stay for the permanent displays on American Painting, African Art, Textile Arts, and Multimedia.
Contemporary Jewish Museum
One of San Francisco's more recent additions to its cultural landscape is the Contemporary Jewish Museum located on Mission between 3rd and 4th. The huge, off-kilter obelisk cube set to the left of the museum's entrance sits in stark contrast to the more conservative, older style brick building in which the museum itself is housed. Currently featured is the exhibit "California Dreaming – Jewish Life in the Bay Area from the Gold Rush to the Present." Coming up on March 18th is "Black Sabbath – The Secret History of Black - Jewish Relations." Also housed in the museum is a recording booth for National Public Radio's (NPR) StoryCorps. In the "StoryBooth" an interviewer and an interviewee record interesting and usually profound life stories which are archived in the National Library of Congress.
CMKY | Get Wired: Coffee and Wifi Hot Spots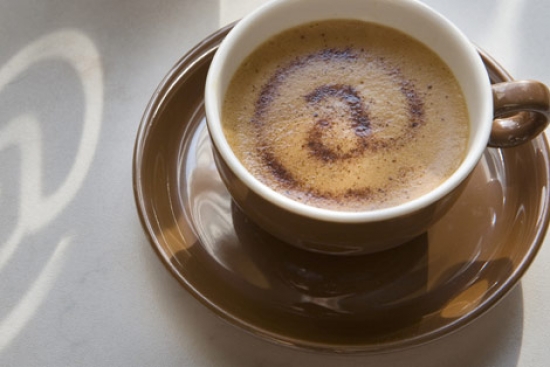 Get Wired: Coffee and Wifi Hot Spots
Coffee shops are home to a blend of patrons as unique as their beans and brews. Wilkes-Bashford suited financiers flocking for their morning fix, mutton-chopped pseudo-intellectuals reading Notes From Underground for the tenth time, and hopeful, out-of-work professionals banging the LinkedIn and Craigslist bushes for that next opportunity create a scene worth more than a mere glance up from your laptop. Since Gav Newsom's plan to cast an all-encompassing Spidey-net of WiFi across the city fell short, those of us who telecommute and can't mooch a connection off an unsuspecting neighbor need to have a trusty map of hotspots throughout the city; preferably ones that have stimulants on hand. These hubs of communication, both online and off, are ready to whip up your specific caffeine concoction, supply ample WiFi, and host a plethora of personalities all in search of an uppity buzz.
The Grove
With permanent wooden tables and benches gracing the sidewalk right outside its doors, The Grove churns out not only great coffee but also a range of micro-brews and Euro suds to calm the nerves if your caffeine buzz reaches OD status. They also offer an extensive menu, and you pay before you sit down, which means no bill at the end of the meal. God I love that. You do have to open your wallet again for WiFi but it's usually worth a few bucks. After all, would you really rather be in the office? Their formula for coziness, comfort food, and coffee has been replicated on Chestnut Street, Fillmore, Hayes Valley, and at the Yerba Buena Gardens on Mission Street, so no matter where you reside, the goodness of at least one Grove is just a Muni ride away.
Jane on Fillmore
Take a pinch of SoMa, slice up some Mission, add a spoon full of Dogpatch, stir for almost a year on one of Fillmore Street's the most stylish blocks, and you get Jane on Fillmore. Modish with black accents throughout, a prominent buffalo's head (taxidermy being staple for any hip eatery or lounge) surveys the coffee bar and downstairs tables. The space is perfect for a catch-up convo or some solitary work. Baked goods are created with superb ingredients and, on top of free WiFi, the subtle soundtrack is designed for those who enjoy actual music, not stale radio top 50.
Coffee Bean & Tea Leaf
For Northern Californians (please, stop saying NorCal) with overly sunny dispositions or transplants from down south, Coffee Bean & Tea Leaf has three San Francisco locales. The space of every The Coffee Bean & Tea Leaf is designed with bright pastels and hints of neon and muted purple, fashioning an LA atmosphere in an SF world. Famous for their flavored and highly addicting iced and blended composites, Coffee Bean's WiFi is on point as well as free. No need to feel traitorous to your foggy and literary SF roots; Coffee Bean is a happy place to fuel your focus.
Coffee Bar
Strategically inhabiting the corner of Mariposa and Florida Streets, at the cusp of the Mission and Potrero Hill 'hoods, the aptly named Coffee Bar is a two-tiered Mecca of laptops, good tunes, hip tech telecommuters, delectable bites, and carefully chosen coffees. Also offering beer, the front patio, sheltered by shrubbery and flora, gets some great sunshine during our non-fog months.